California Referee School 2018
El Segundo, CA, See information below.
Photos courtesy Gary Wagner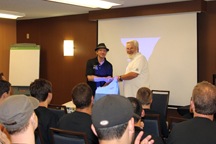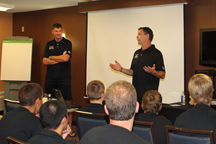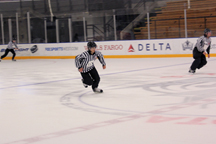 Steve Stevens and Michel Voyer NHL's Shane Heyer and Mike Leggo Skating test at the Level 4 seminar
The date for the 2018 California Referee School is:
Friday August 3rd through Sunday August 5th. Please click on the link below for all the information.
Click here for information on the California Referee School
2018 USA HOCKEY SEMINARS
You must register with USA Hockey before attending a seminar, also register with the appropriate person for the specific seminar.
2018 USA HOCKEY LEVEL 4 SEMINAR
CALIFORNIA
Aug 3rd – 5th, 2018 Toyota Sports Ctr, El Segundo, CA California Referee School (level 3 also)
WASHINGTON
Sept 22, 2018 Eagles Ice Arena, Spokane, WA. Contact: Jacob Headley This email address is being protected from spambots. You need JavaScript enabled to view it.
2018 USA HOCKEY SEMINARS
Make sure to click on the link below to sign-up for and get the details of your seminar
CALIFORNIA
NORTHERN CALIFORNIA
July 21 Oakland, CA Level 1 Contact: Todd Llewellyn This email address is being protected from spambots. You need JavaScript enabled to view it.
July 29 San Jose, CA Level 1 Contact: Todd Llewellyn This email address is being protected from spambots. You need JavaScript enabled to view it.
Aug 4 Santa Rosa, CA Level 1, 2 & 3 Contact: Todd Llewellyn This email address is being protected from spambots. You need JavaScript enabled to view it.
Aug 5 Vacaville, CA Level 1, 2 & 3 Contact: Todd Llewellyn This email address is being protected from spambots. You need JavaScript enabled to view it.
Aug 11 Roseville, CA Level 1, 2 & 3 Contact: Todd Llewellyn This email address is being protected from spambots. You need JavaScript enabled to view it.
Aug 18 Fresno, CA Level 1, 2 & 3 Contact: Todd Llewellyn This email address is being protected from spambots. You need JavaScript enabled to view it.
Aug 25 South Lake Tahoe, CA Level 1, 2 & 3 Contact: Todd Llewellyn This email address is being protected from spambots. You need JavaScript enabled to view it.
Sept 8 San Jose, CA Level 1, 2 & 3 Contact: Todd Llewellyn This email address is being protected from spambots. You need JavaScript enabled to view it.
Sept 15 Fremont, CA Level 1, 2 & 3 Contact: Todd Llewellyn This email address is being protected from spambots. You need JavaScript enabled to view it.
Sept 22 Stockton, CA Level 1, 2 & 3 Contact: Todd Llewellyn This email address is being protected from spambots. You need JavaScript enabled to view it.
SOUTHERN CALIFORNIA
Aug 11 Westminster, CA Level 1 Contact: Richard Ozaki This email address is being protected from spambots. You need JavaScript enabled to view it.
Aug 11 Westminster, CA Level 2 & 3 Contact: Richard Ozaki This email address is being protected from spambots. You need JavaScript enabled to view it.
Aug 12 Lakewood, CA Level 1 Contact: Richard Ozaki This email address is being protected from spambots. You need JavaScript enabled to view it.
Aug 12 Lakewood, CA Level 2 & 3 Contact: Richard Ozaki This email address is being protected from spambots. You need JavaScript enabled to view it.
Aug 25 Ontario, CA Level 1 Contact: Richard Ozaki This email address is being protected from spambots. You need JavaScript enabled to view it.
Aug 25 Ontario, CA Level 2 & 3 Contact: Richard Ozaki This email address is being protected from spambots. You need JavaScript enabled to view it.
Aug 25 San Diego, CA Level 1 & 2 Contact: Dan Ellison: This email address is being protected from spambots. You need JavaScript enabled to view it.
Aug 26 San Diego, CA Level 2 & 3 Contact: Dan Ellison: This email address is being protected from spambots. You need JavaScript enabled to view it.
Sept 15 Santa Clarita, CA Level 1 Contact: Richard Ozaki This email address is being protected from spambots. You need JavaScript enabled to view it.
Sept 15 Santa Clarita, CA Level 2 & 3 Contact: Richard Ozaki This email address is being protected from spambots. You need JavaScript enabled to view it.
Oct 13 Bakersfield, CA Level 1, 2 & 3 Contact: Richard Ozaki This email address is being protected from spambots. You need JavaScript enabled to view it.
Oct 18 Santa Clarita, CA Level 2 & 3 Contact: Richard Ozaki This email address is being protected from spambots. You need JavaScript enabled to view it.
Oct 27 Semi Valley, CA Level 1, 2, & 3 Contact: Richard Ozaki This email address is being protected from spambots. You need JavaScript enabled to view it.
NEVADA
Aug 25 Las Vegas, NV Level 1, 2, & 3 Contact: Dan Leavitt This email address is being protected from spambots. You need JavaScript enabled to view it.
Sept 22 Las Vegas, NV Level 1, 2, & 3 Contact: Dan Leavitt This email address is being protected from spambots. You need JavaScript enabled to view it.
WASHINGTON
Aug 19 Kennewick, WA Level 1, 2 & 3 Contact: Kevin Olsson This email address is being protected from spambots. You need JavaScript enabled to view it.
Aug 21 Spokane, WA New Officials Contact: Jacob Headley This email address is being protected from spambots. You need JavaScript enabled to view it.
***Aug 26 Tacoma, WA Level 1, 2 & 3 Contact: Tony Milles This email address is being protected from spambots. You need JavaScript enabled to view it.***
*** THIS IS THE USAH FEMALE CAMP ALSO***
Sept 8 Tacoma, WA Level 4 Contact: Tony Milles This email address is being protected from spambots. You need JavaScript enabled to view it.
Sept 9 Spokane, WA Level 1, 2 & 3 Contact: Jacob Headley This email address is being protected from spambots. You need JavaScript enabled to view it.
Sept 22 Wenatchee, WA Level 1, 2 & 3 Contact: Drew Behrens This email address is being protected from spambots. You need JavaScript enabled to view it.
Oct 14 Spokane, WA Level 1, 2 & 3 Contact: Jacob Headley This email address is being protected from spambots. You need JavaScript enabled to view it.
Oct 28 Kennewick, WA Level 1, 2 & 3 Contact: Kevin Olsson This email address is being protected from spambots. You need JavaScript enabled to view it.
Great News !!
Pacific District is holding another fabulous Female Development Camp.
Sign up on the National seminar site. Click on the link below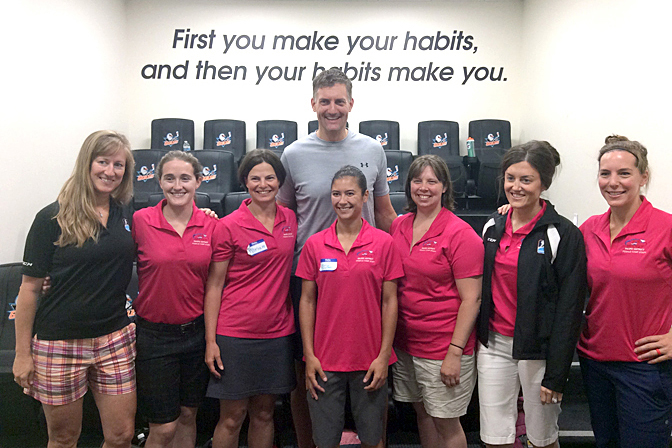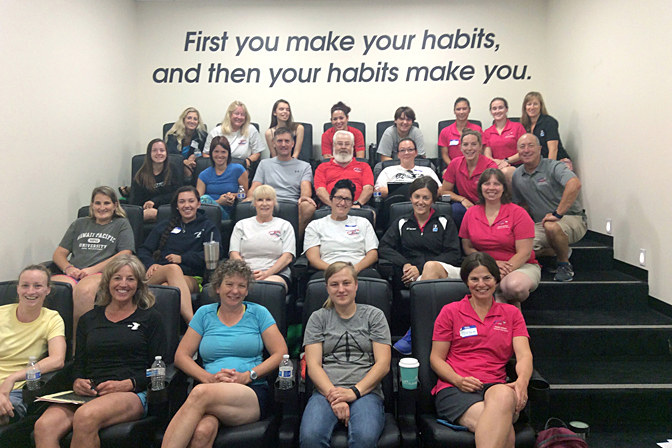 2016 Staff Including NHL Linesman Shane Heyer 2016 Attendees and Staff
Because of the interest that has been shown for the last one and emails and calls have been asking about one.
A few changes but not many. Jamie Huntley is still our king pin. Dan Ellison and myself will be the behind the scene directors. Brie Stewart, Annette Lyn, Jackie Wilson and many of the other top flight instructors within USA Hockey are going to be involved once more. I am in the midst of convincing a couple NHL Officials to stop by. There is a lot of work that needs done between camp time and now. We will keep you updated with dates, times, hotels, etc. as time goes on.
Therefor what we need from you is a reply as to if you are interested in this camp. Let us know as soon as possible. We won't hold you to your choice, but it will give us a starting place. Please note the following and some of the changes.
2018 Female Camp
Aug 26th
Tacoma, Washington NEW Location !!
Sent on behalf of:
Steve Stevens
Pacific District Referee in Chief
USA Hockey
Click here for the USA Hockey registration page
Click here for seminar information
Be sure to register Starting August 1, 2017
Seminars will be scheduled as submitted.